---
June 12, 2020
Following the lifting of restrictions on housing market transactions in England in mid May, with buyers and sellers returning to the market in what is traditionally the peak selling season, the question on many people's minds is whether conditions and sales volumes will return to a degree of 'normality' relatively quickly, or whether we are facing a slow and long haul back to pre-coronavirus transaction levels and prices?
In quarter 1 2020, the property market was enjoying a resurgence after the General Election, with both demand and confidence building. Up until mid-March, data from Rightmove suggested the housing market was performing well, with asking prices reaching an all-time high and agreed sales achieving the best volume since 2016. That all stopped rather abruptly at the end of March. According to data from Zoopla, around 370,000 transactions representing £82 billion worth of sales had been 'caught' in progress on March 23rd when lockdown measures were imposed, and only a small proportion of those have been completed during the lockdown period.
So, as lockdown measures are eased, are buyers and sellers who had been thinking of moving earlier in the year still happy to commit to the market within the 'new norm' of socially distanced viewings? Or, will home moving decisions become yet another cancelled objective of 2020, delayed into the 'maybe next year' category or even shelved indefinitely? A snapshot survey of estate agents conducted by Dataloft to gauge the mood of potential buyers and sellers across the country reveals some interesting findings.
The vast majority of sellers still intend to market their homes, with most wanting to proceed immediately, or at least within a few months. The survey suggests that around half of respondents who had been planning to sell their home before lockdown restrictions were imposed decided to put a halt to their plans. Of these, the vast majority (95%) still intend to sell their home. More than half (52%) plan to list their home for sale as soon as they can and a further 27% will sell within a few months. Just 5% have changed their mind completely while 16% deferred their plans to next year.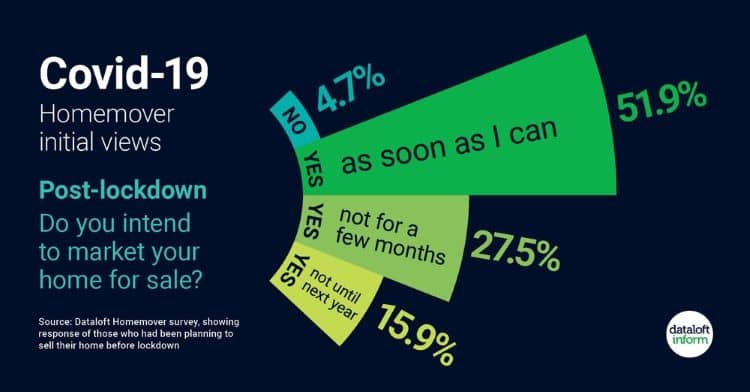 Most sellers are also comfortable with in-person viewings taking place in their homes as long as the correct safety procedures are followed. Notwithstanding that the Government guidelines on re-opening the market included recommendations on social distancing rules, it would be understandable if vendors continued to have concerns and reservations about allowing people into their homes. However, according to the survey, an overwhelming majority (83%) of vendors who are looking to sell as soon as possible were either very, or fairly, comfortable with having potential buyers view their home on the basis that social distancing measures were followed.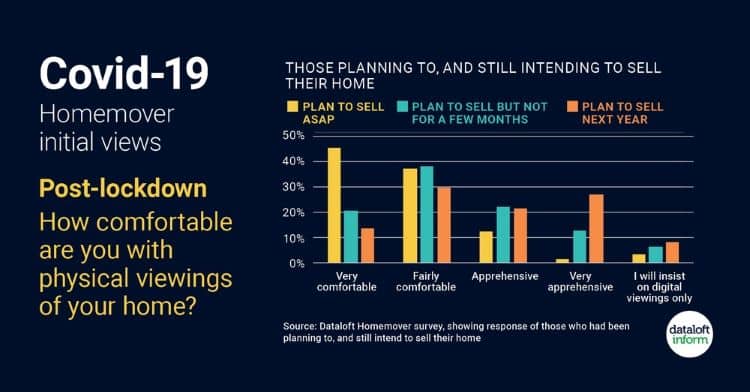 Buyers also showed themselves to be highly motivated to continue with their home search, with many hoping to make the move sooner rather than later. Three quarters of respondents to the homemover survey had been actively searching for a new home before lockdown. Of these, just 6% have cancelled their plans completely. More than 60% are actively looking to buy as soon as they find the right home or sell their existing property.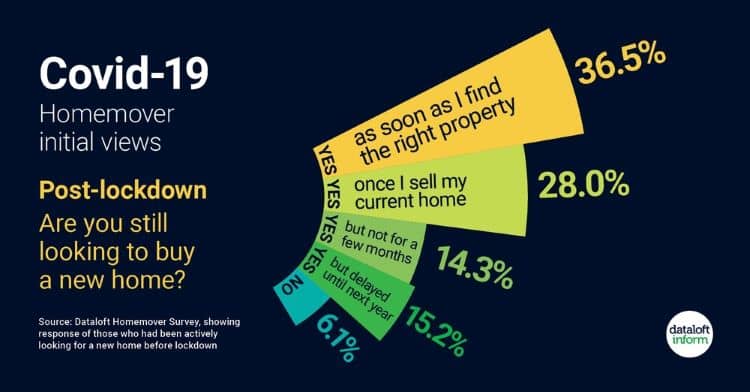 For the majority of buyers, the experience of lockdown has not changed their home-buying budget. For those still intending to buy, 71% were looking with the same budget as before. Only a fifth (21%) had reduced the amount they intended to spend and, whether that change resulted from concerns over their employment or wider economic conditions, they remained confident enough in their own personal circumstances to be looking to commit to a property purchase.
There is one area where the experience of lockdown will have longer term implications however, as many buyers have reconsidered what really matters most in choosing their ideal new home. Just under half (46%) of buyers' home requirements have changed as a direct result of lockdown and Covid-19. With working from home set to become the 'new norm' for many in the near future, space to work and broadband speeds have become a much more important consideration. Topping the list though, was the rise in importance attached to having a garden. Almost a third of buyers said that having a garden has become a much more important consideration for them than before lockdown.