---
12 June, 2020
In recent blogs, we talked about how the coronavirus has forced us to make changes to how we live our daily lives and we discussed whether any of these changes could impact the long term residential housing market.
Being in lockdown caused all of us to make adjustments to how we work, live and play with many of us turning parts of our home into office space, workout zones or mindfulness retreats. But, as lockdown measures are slowly eased and the residential property market starts to fire up again, are we seeing any early signs that the behavioural changes forced on us by the virus are here for the longer term? 
A recent 'Homemover Survey' by Dataloft certainly suggests that some of the changes we have made over the last few months might be here to stay. It appears that home buyers are re-evaluating what they are looking for in a home, with just under half of the buyers surveyed saying that that their home search requirements have now changed as a direct result of lockdown and Covid-19.
Of those surveyed, 21% said that they were now placing greater emphasis on having working space in the home. The 'work from home' concept is certainly not new and the blurring of lines between home and office life has been ongoing for some time. The trend is increasingly apparent in how we design our homes and how companies are designing office space. Many homes already incorporate a fixed work space including desk, office chair and desktop computer and many corporate offices now include a coffee machine, sofas, exercise machines, bean bags and table football! There seems to be an almost unstoppable momentum towards making our home and work lives fungible, and this has been accelerated by the recent outbreak of COVID-19. 
30% of respondents stated that having a garden was now more important to them and 15% said they wished to live in a less urbanised area and wanted more access to outdoor green space. Again, this is unsurprising following a two-month lockdown which would have been especially difficult for those confined to a home without any outdoor and garden space. Garden space was already an important feature in home sales even before the lockdown started, with 62% of respondents to a recent survey of homebuyers saying that a garden was important to them, while 72% saying they would pay more for a property with outdoor space. In fact, having access to outdoor space has become so important that, according to Zoopla, 'Garden' was the second most popular search term for prospective purchasers across the UK in 2019, with other amenities such as 'garage' and 'parking' also among the top three.
Internet speed also featured highly in the Dataloft survey, with 16% of respondents saying that having a good broadband connection is now more important to them following COVID-19. There is no point logging into your zoom meeting or trying to download your daily workout if your internet speed won't allow you to function effectively. Again, this trend is not new as streaming online video and gaming had already focussed the minds of home buyers on band width. The Government has achieved its target of 95% of homes having superfast broadband, and has now proposed a full rollout of fibre, which may cause complexities for existing dwellings and new developments alike. A further recent survey found that 55% of UK house buyers would reject their ideal house if speeds were below 100 Mbps, with many willing to pay a premium to ensure it. Adequate internet speed is quickly becoming a prerequisite for home buyers and properties offered for sale that are unable to offer acceptable speeds are likely to face a challenge.
The impact of being confined to our immediate family groups and being cut off from friends and relatives is also reflected in the survey, with 8% of respondents saying that living closer to friends and family was now more important to them.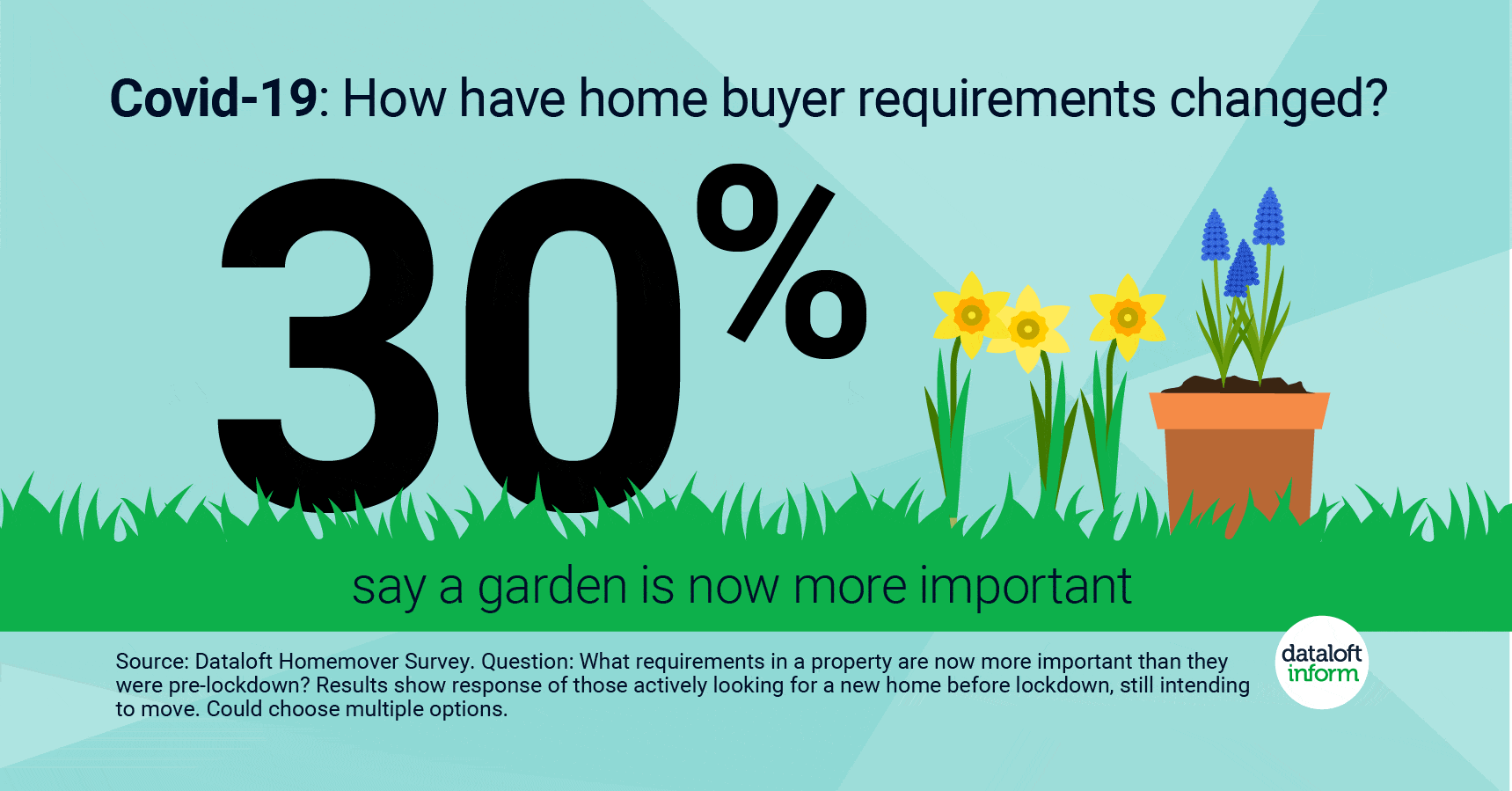 We are still in the process of easing lockdown measures and trying to work out what the new 'normal' looks like. However, the Dataloft Homemover survey certainly suggests that Covid-19 is likely to have left a legacy of consumer behaviour change, shifting the relative importance of house buyer requirements.