About
Broadwater lies about 2 miles from the coast and Worthing town centre. It borders Tarring to the west, Sompting to the east, and East Worthing to the south-east. Broadwater is centred around a large triangular grassy area known as 'Broadwater Green'.  
---
People and property
Broadwater has a diverse range of property to suit all tastes and budgets. Properties range from Victorian through to new build houses and flats. It's attraction to many is reflected by a population that is well balanced across all age groups and between families (40%) and single persons (30%). It is a particularly attractive area for those who commute out of area by car as it has easy access to the A27, A24 and A23. Indeed, 64% of residents commute to work by car each day. The Village centre has has an attractive mix of restaurants, pubs and shops. It seems that Broadwater has something to offer to everyone!
The range of property reflects the broad cross section of residents. Housing stock consists of 30% terraced houses, 25% semi detached, 18% detached and 25% flats. The area offers a good property choice for first time buyers through to large families and retirees.  
Key property data includes:
78% of residents own their home and 22% rent.
The average selling price over the last 12 months was £305,000.
76% of sales over the last 12 months were of houses and 25% were flats.
The total value of property sold in the last 12 months was £34m
Average rents achieved are approx £900. Houses achieved an average rent of 

£1,195

 per month.
Almost 90% of the properties are served with ultra fast broadband (over 300 mbps) compared with regional average of 53%. 
The most predominant industry of employment is 

Public admin, education & health

 which comprises 

31.1%

 of the working age population. During the working day, the population 

decreases by 10.9%.

Approximately 64% of the working population drive to work.
78% of homes are located within a 200 meter walk of a bus stop or railway station.
---
Transport
The area has a well connected transport infrastructure, particularly for those who choose to commute by car as there is easy access to the A27, A23 and A24 roads. Worthing, West Worthing and East Worthing stations all have direct and connecting trains to Brighton, London, Gatwick Airport, Portsmouth and Chichester. Approximately 78% of housing is within 200 walking meters of either a bus stop or railway station. 
---
Schools
Springfield Infant School, Whytemead Primary School, Broadwater C of E Primary School, St Andrews High School for Boys, Bohunt School, Worthing High School
---
Did you know?
Broadwater Cricket Club is the oldest cricket club in Worthing and have been playing on Broadwater green since 1771.
Broadwater was once a parish in its own right and included Worthing when the latter was a small fishing hamlet. It was incorporated into the Borough of Worthing in 1902
The ancient parish of Broadwater contained the formerly separate settlements of Broadwater, Offington, and Worthing.
---
Things to do
In summer, take a picnic onto the green to watch Worthing's oldest cricket club. Visit the Boadwater festival which takes place on the green every July.
---
Data snapshot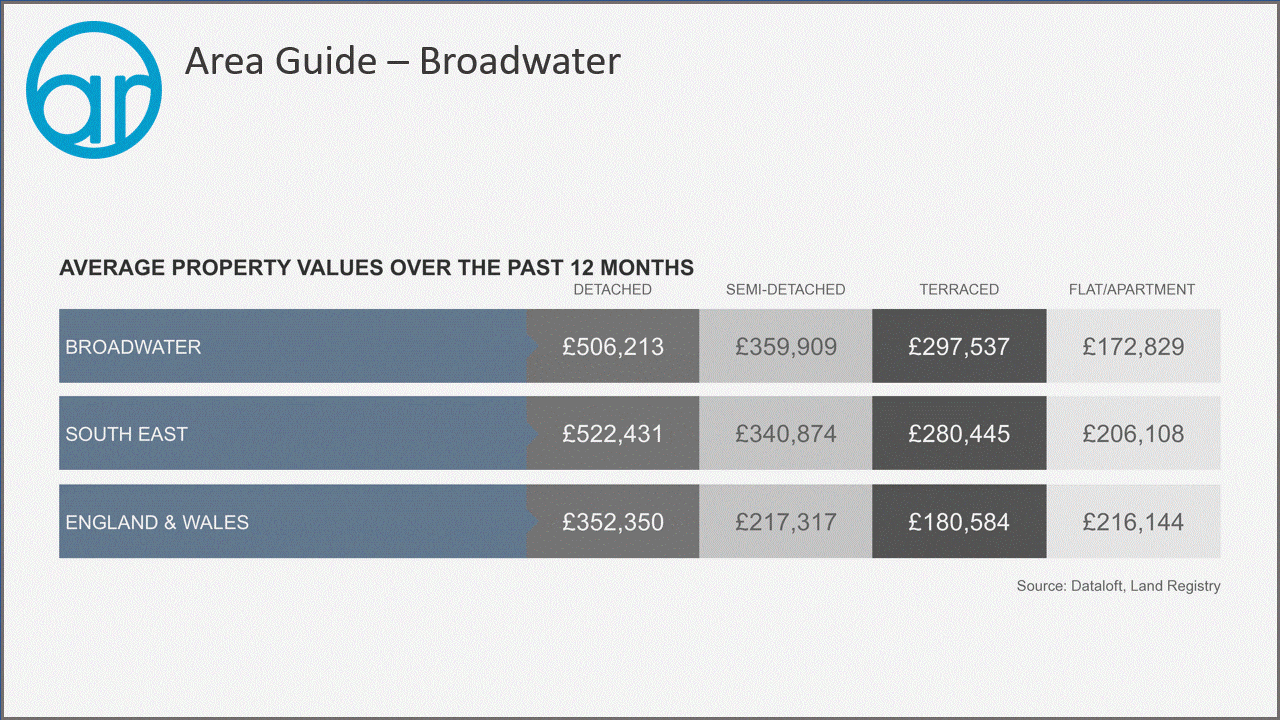 Request further information ...